WMS / Warehouse Management System

WHAT IS THE WMS MISSION?
As consumer demand grows and new instruments and formats of commercial relations emerge, the ability to ensure uninterrupted supplies despite a high turnover is of paramount importance, which sets the tone for today's warehouse.
Not a single up-to-date warehouse complex processing many thousands of commodity items, maintaining different storage conditions, using different measurement units, meeting different accounting, acceptance and delivery requirements can deal without a proper WMS these days. Far from having precisely refined processes, such a warehouse must also be able to quickly and smoothly respond to new or changing customer requirements, i.e. to possess what one calls flexibility and functional power.The warehouse management should rely upon advanced WMS solutions offering a wide range of integrated functional modules and ample settings to implement and optimize any warehouse processes. Based on the principles of bin location warehousing and inventory breakdown by various properties, such systems are powerful management resources.

TURNKEY SOLUTION
Our company is not just another WMS provider, since we provide a comprehensive "turnkey" warehousing improvement project using IT systems. Based on an in-depth review of existing warehouse processes, our consultants propose ways to optimize them, advise on the choice of WMS solutions and hardware depending on the cost-to-function ratio. The result of the project is a well-balanced system of administrative, hardware and software procedures configured to yield analytical reports on warehouse processes at any moment.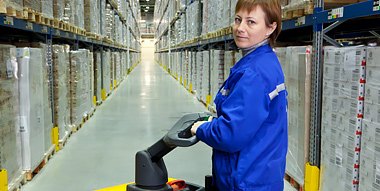 Strategies
Using the established procedure, the warehouse management system automatically determines the storage location of each unit of the goods received and identifies what batch of goods must be picked from what storage bin for the order required. Also, many WMS systems feature impressive flexibility in configuring the turnover rules and process steps that may depend on quite a lot of parameters. Therefore, the warehouse worker's duties are limited to implementing the automatically generated instructions, which means a substantial labor productivity increase and improved quality of work.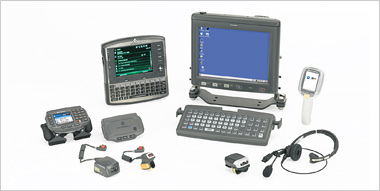 RF, RFID, voice technologies
Any physical movement of goods by warehouse workers, be it stock placement, shipment or internal movement, is immediately registered in the database, with the result that each storage bin at any moment contains precisely what the electronic database indicates in terms of quantity and condition. Depending on the types of processes, types of commodities, topology and other factors, RF, RFID or voice control technologies can be integrated into the warehouse management system, significantly reducing labor costs and minimizing the error percentage.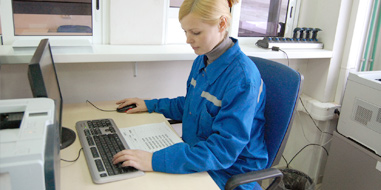 Strategies
The most important WMS function is the ability to track the operations performed by warehouse workers and their stages in real-time mode so as to promptly react to various emergencies, to adjust tasks, to reassign, if necessary, the warehouse resources (equipment and workforce). Moreover, tasks are then reassigned using the WMS and are automatically given to each warehouse worker.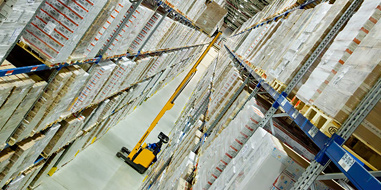 RF, RFID, voice technologies
The most powerful WMS systems incorporate an option to have warehouse workers be guided solely by the WMS throughout the whole work shift. This can increase labor productivity by eliminating the need to request instructions from the management. The process may be configured to assign tasks in order of priority depending on the warehouse worker's "role", or tasks at the closest place to the worker's current location.