Automation of logistic processes at meat processing plant "Atyashevsky" with SAP based solutions
Statement of the problem and requirements to WMS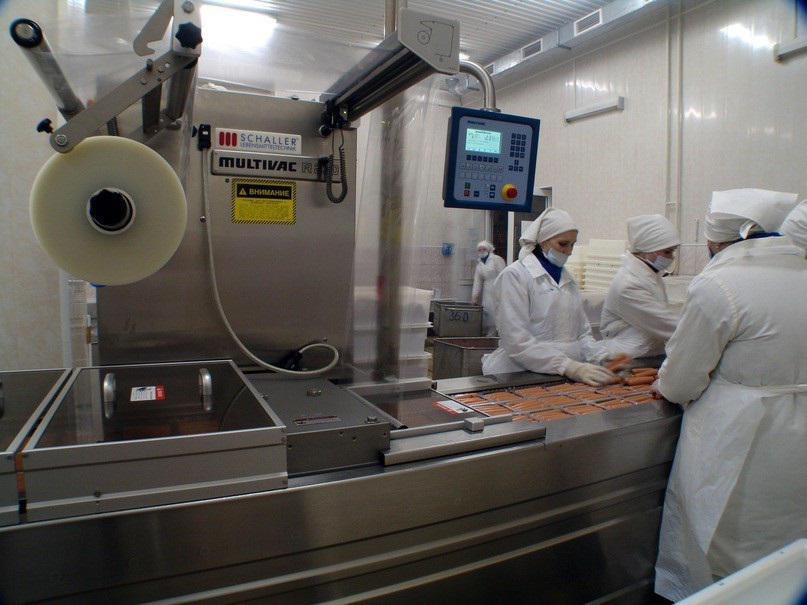 The system must have addressed storage principle, including the using of gravitational racks
There should be implemented the possibility of production and execution of warehouse tasks in two parallel units: kg and boxes
The system should automatically receive and putaway processing units (EO) for customized strategies for different types of racks
The system should be easily administrated
Online monitoring of all processes. Required analytics. Warehouse resource management warehouse in real time
Seamless integration of WMS wiith accounting systems (1C: Manufacturing, 1C: Trade, 1C: Accounting)
Personalization of warehouse processes
The scalability of the system in case of expanding of company's business
PRODUCT CATEGORIES
Calibrated sausage products, which do not require additional packaging in boxes 
Weight production, measured both in kilograms and boxes (each box has a unique weight)
QUANTITATIVE EVALUATION 
The area of the warehouse class "A" – 4 200 sq.m.
Topology:
- Racks
- Flow racks
SKU – about 150
Picking lines during a working shift – not less than 15000
Working mode – non-stop
Temperature mode – +2…+6 °C
General processes
Acceptance of final goods (FG) from automated in-line and discrete product lines, and also from vacuum packaging shop
Quantitative and qualitative account of FG with tracking of production date, shelf life, production batches and attachment to the customer at the consignment level
The address storage of FG in compliance with the climatic conditions and the turnover 
Timely preparation and shipping of goods (box / pallet) to recipients 
Dynamic replenishment of box-picking cells with necessary quantity of products "for an order" 
Internal movements, inventory, repackaging 
Integrated weight control at the entrance and exit from the warehouse 
Supporting of warehouse turnover with required printed documentation 
Support of warehouse processes with analytical reporting
Throughout online monitoring of all warehouse movements
Decision of TLS
Delivery and setup of SAP EWM 9.1 system based on EHP3 for SAP SCM 7.0.
Maximum use of the standard functionality of SAP EWM for all warehouse processes
Adjustment of stock search strategies for orders on any rules of rotation and with respect to the residual shelf life
Batch accounting and the use of party attributes when choosing stock into orders has been implemented
Recommendations for optimization of warehouse topology and planning of orders for customers have been worked out
For the implementation of the requirements of accounting of weight goods the "Catch Weight" functional has been implemented (simultaneous consideration of two units: kg and boxes)

The system logic of tasks creation with respect to access, the logic of the screen for the simultaneous consideration of the weight and number of boxes collected in an order have been improved
Step by step management of warehouse operations and picking cycles has been implemented
On the basis of "closing the EO" tool, the "Weight Control" RF-transaction has been developed. Pallet passport printing occurs automatically when a pallet passes weight control
Rules of placing orders onto a pallet have been adjusted using standard tool "rules for creating of warehouse orders"
The system automatically allocates warehouse tasks between employees with respect to their "roles" and tracks the types of tasks, cells and accessibility that correspond with this "role"
Warehouse Monitor tool that allows online analysis of warehouse tasks fulfilment has been used
In the first phase of the project the automation of warehouse processes for acceptance of calibrated and weight-production, placing it on a rack storage areas of various types, distribution and shipment for client orders has been implemented. Besides, processes of inventory, weight control, processing of returns to manufacture, rejection and internal auxiliary movements have been realized.
FOLLOWING POSITIVE RESULTS HAVE BEEN ACHIEVED: 
The percentage of errors in quantity of products at orders picking has been reduced
Flexibility and transparency in organization and management of intra-movement of stocks have been increased
Speed and accuracy of picking and the accuracy of inventory reporting on warehouse stock have been significantly improved
Accuracy of production planning and shipments to customers have been increased
Working of resources in the warehouse has been optimized by implementing of tool "Working under control of the system"
Control of shipment gates and transport units in Yard Management module allowed to significantly increase the speed and accuracy of the loading and release of materials.