"Technology Logistics Systems" company has started implementation of SAP SCM EWM at the warehouse of meat processing plant "Atiashevskiy"

On April 2015 the company "Technology Logistics Systems" started implementation of SAP SCM EWM for automation of processes on the warehouse of finished products of meat processing plant "Atiashevskiy" (belongs to the group of companies "Talina"), located in the village Torbeevo in the Republic of Mordovia.

Meat processing plant "Atiashevskiy" is a fast growing and dynamically developing Russian company in the production and sale of food products. The company has invested big money in modernizing its production facilities: factory in the village Torbeevo equipped with modern robotic systems that perform the functions of production and packaging of sausages and meat products.
Priority of the group of companies "Talina" is a compliance with high quality standards and impeccable service for meeting the needs of customers and increasing of their loyalty. Therefore, the company pays great attention to improving the efficiency of supply chain management, using modern IT technologies and automation of warehouse and related processes.
Putting the spotlight on the philosophy of the group of companies "Talina", "TLS" proposed an integrated approach to optimize the management of warehouse operations and stock, based on software product SAP SCM EWM. The project is implemented in several stages, each of which contains a strict list of works and terms.
During the initial phases of the project "Technology Logistics Systems" conducted a thorough examination of the logistics environment of the Customer, which allowed to propose a set of measures to improve productivity and efficiency and to generate the target model of business processes using the SAP SCM EWM system.
In the framework of the project: automation of warehouse processes for acceptance of production of calibrated and weight products, placement on the storage rack in the areas of various types, distribution for client orders and shipping. The extension of the Project was adding automation of warehouses of raw materials and auxiliary materials.
It is also important to note that SAP SCM EWM covers all critical warehouse tasks of "Atiashevskiy" by standard functionality without significant modifications, which gives a great advantage, expressed in savings in material and time resources.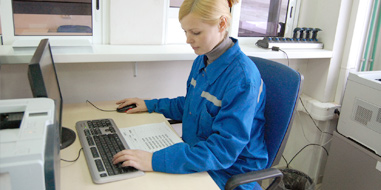 The project of the finished product warehouse is scheduled for completion in September 2015, according to the warehouses of raw materials in January 2016. A business decision will allow the "Atiashevskiy" to achieve high performance indicators: increasing of productivity, efficient using of labor resources, reduction of error rates, increasing of visibility of analysts.
Optimization and standardization of all logistics processes within the company will create a streamlined system that focuses on improving of satisfaction and quality of service of the end user and allowing to reduce the impact of market factors on the business enterprise.