SAP Plant Maintenance
Purpose
The SAP PM module provides possibilities to carry out effective planning and forecasting of maintenance and repair of equipment, monitoring of reparation works, control of costs for the purchase of materials and spare parts and to automatically generate analytical and reference reports, carry out analysis of the efficiency of resource use
Functions
Unique management system for reference data 

Hierarchical management of the organizational structure of each production site and repair facilities;
Accounting and detailing of all repair facilities, production and auxiliary equipment;
Taking into account all the technical spaces;
Management of spare parts database;
Keeping the history of repairs and operation of enterprise facilities. 

Planning 

Planning maintenance at each repair site;
Keeping technological cards for each maintenance facility;

Keeping the equipment specifications;
Formation of regulations and maintenance plans;
Formation of orders for scheduled repairs;
Accounting for emergency repairs and monitor work performance.

Accounting for emergency repairs and monitoring the implementation of works

Formation of reports on emergency repairs and stops of production line/power facility;
Formation of orders for emergency repairs;
Daily (every shift) orders for engineering service for maintenance and repairs of equipment;
Monitoring the fulfillment of work under orders.
Functionality
Reporting

Report on emergency outages;
Report on fulfilled repairs;
Report on plans of repairs;
Report on the state of equipment;
Report on the availability of spare parts and materials in warehouses.

Monitoring of work of the production line in real time»

Tracking the status of manufacturing line indicators in real time;
Data input at the location of the repair facility at the time of execution of works;
Reporting on tasks fulfillment;
Monitoring of work indicators.

Acounting of the number of spare parts and ordering of spare parts by supply service

Accounting and analysis of materials cost and time by type of maintenance;
Formation of the schedule and budget of repairs based on repair strategies, norms of consumption of materials and time;
Formation of the production program of repair units and planning the purchase of materials. 

 
BENEFITS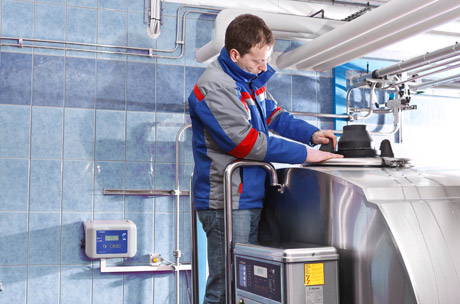 Increasing of resiliency and maximizing equipment's life;
Reduction of operating costs and unplanned production stops;
Increasing the efficiency of production by reducing production losses caused by equipment stoppage or impairment of equipment;
Transparency of carrying out of repairs;
Decreasing cost of maintenance and repair;
Improvement of planning and the availability of materials and spare parts;
Reducing of transaction costs through the optimization of purchases of materials and spare parts from suppliers;
Reducing of energy consumption;
Effective planning and minimization of downtime for maintenance personnel;
Monitoring of staff productivity;
Strict adherence to occupational safety, accident reduction and elimination of violations of environmental requirements;
Seamless integration with the Customer's ERP-system and related enterprise processes.