Construction of an own warehouse. Delivery of warehouse provider services
Project focus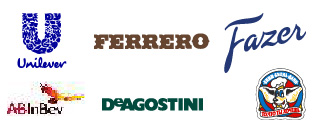 The company's expansion and development, the highly effective management and the ample experience as a 3PL operator motivated the decision to build an own class A warehouse complex in Moscow region in 2005.
Principal objectives
Local networking, purchase of servers, RF devices and office appliances
Personnel management at all levels: from recruitment and adaptation for working shifts with tutors to training seminars and annual across-the-board personnel certification procedures.
Accountability to Customers, billing
Technical support of all the construction, installation, household and special equipment of the warehouse complex
Issues related to security management on site: application of video surveillance and access control systems

Construction and equipment of the warehouse complex capable of handling road and rail vehicles, with a capacity of 50,000 pallets, with an option to divide the warehouse area into several temperature zones
Selection and application of an electronic warehouse management system (WMS): comprehensive process review, layout calculation and modeling of business processes with a breakdown by Customers, drawing-up of technical specifications (TOR) for the software configuration and improvements, WMS integration with the ERP of each warehouse customer, development of instructions and personnel training

TLS solution
Review of processes, stocks, document flows and storage / turnover requirements for each Customer. Based on the review, TLS prepared technical specifications (TOR) for the WMS configuration and made a detailed calculation of the warehouse topology
The Exceed WMS system was implemented as a warehouse management solution. Its basic default functions, with adjustments made to some processes, were enough to cover all the inventory management requirements of all the warehouse customers

An in-house integrated warehouse process monitoring system was developed. This solution also included the integration of external systems with the WMS
Development of job/responsibility descriptions, user and functional instructions in terms of employees and warehouse processes
The comprehensive personnel management approach included the development of a methodological framework for personnel adaptation, training and certification purposes, as well as an incentive program for employees
Over a short time, a smoothly operating, effectively managed warehouse complex with well-trained and motivated employees committed to productivity and professional advancement was created.
From scratch, by maximizing the storage capacity, motivation and professional management advantages, TLS built a profitable business meeting loan obligations and generating profits for the company.

Highly valuable experience of managing storage facilities at a top level, handling different types of products, using advanced hardware and software solutions, and building an effective management system.
The project incentivized the company to continue accumulating knowledge of how advanced IT solutions may be applied in logistics. TLC is currently partnering with a number of software vendors such as SAP, Infor, a-SIS, Community for you; the company employs certified specialists experienced in the sales and application of warehouse and transport management systems.